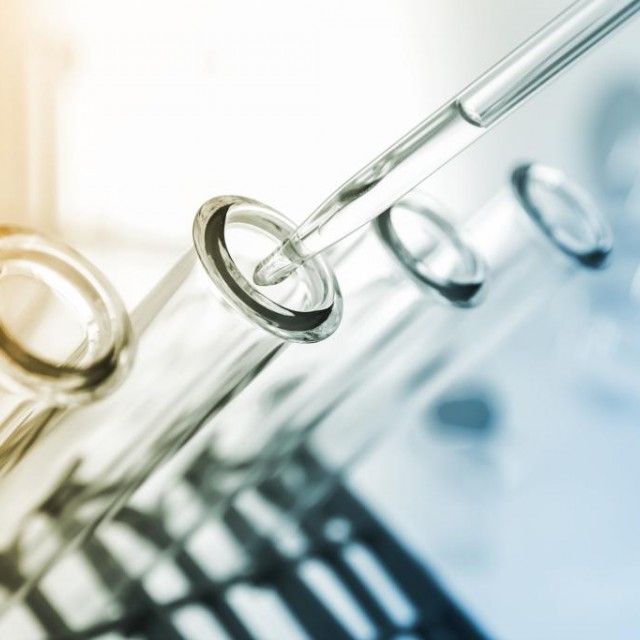 Research
Aspiring clinician-scientists are encouraged to complete 6-18 months of research in addition to six months of clinical training. Research opportunities are available in a variety of areas, either working in concert with a faculty member on an ongoing project or undertaking a new investigation. The research interests of some of the current faculty are described below.
Residents may undertake the accompanying clinical training at the beginning or end of the research training period, and may choose from a number of options available to those electing one of the clinical tracks. The Department is proud of its contributions to academic research; such rotations supplement sound clinical rotations, as we believe that a sound clinical foundation is essential to both the academic and private practice of anesthesia.
The Department of Anesthesia and Critical Care offers a joint Anesthesiology/Clinical Pharmacology Training Program (ACPTP). The goal of this program is to provide superior training in clinical anesthesiology and to extend this training to include an in-depth knowledge of the principles, practice and research methods of clinical pharmacology.
The latter is integrated throughout the clinical anesthesia training period and in an additional fellowship year. The successful candidate will be eligible to sit for the examinations of the American Board of Anesthesiology and the American Board of Clinical Pharmacology at the conclusion of training.
The program consists of a continuum, adding additional didactic training in clinical pharmacology during the CA-1 and CA-2 years.
The second two years of training consist of a combined program designed to meet the requirements of the American Board of Clinical Pharmacology.
At least six months of this period will be clinical as described by the American Board of Anesthesiology, but this time may be used in conjunction with ongoing work in clinical pharmacology. The candidate, under the direction of a mentor, will design and complete a research program focused on the principles of clinical pharmacology as they apply to the practice of anesthesia and critical care.
Further information about our faculty may be found in the Faculty Pages and on the Department Grants List page.
Participation by residents is welcomed in these and other investigations.
Dr. Allan Klock studies electronic database information systems to help physicians transfer information, increase the role of anesthesiologists in improving the choices and outcomes of care, implement guidelines, do preoperative assessments and care for patients more efficiently.
Dr. Mark Chaney is studying the efficacy of transesophageal echocardiography and stress reduction in various clinical situations, including regional and organ blood flow.
A pain management program is operated by Drs. Magdalena Anitescu and Tariq Malik. Dr. Magdalena Anitescu studies the efficiency of traditional and newly emergent discography techniques (functional anesthetic discogram) to identify pain generators in low back pain.
Drs. Dan McGehee, Ming Xu, and Jimmy Xie study the pharmacology and biophysics of anesthetics.
Clinical investigations into recovery from anesthesia, particularly with respect to patients undergoing surgery as outpatients who suffer from perioperative anxiety, are underway by Drs. Jeff Apfelbaum, Allan Klock, Wendy Binstock, and Dennis Coalson.
Studies of histaminergic, enteric, and autonomic pharmacology are in process under the aegis of Drs. Jonathan Moss and Chun Su Yuan.
Pharmacological studies of intensive care patients are undertaken by Drs. Mike O'Connor and Avery Tung.
Studies of patient safety are performed by Drs. Michael O'Connor, Allan Klock, and Steve Small.
Drs. Jon Moss and Chun-Su Yuan helped develop quaternary naltrexone compounds to reverse the peripheral effects of narcotics and are now studying their applicability in other clinical situations.
Our airway laboratory is run by Drs. Jerry Klafta and Allan Klock.
Project Title: Role of Pre-eclampsia in Cardiovascular Disease
Faculty: Sajid Shahul, MD
Description: The project investigates mechanisms of cardiac dysfunction in preeclampsia. Women with a history of preeclampsia (PE) are at increased risk of death from cardiovascular disease. I use a translational approach combining advanced echocardiography with biochemical signatures to detect subclinical cardiac changes in women with preeclampsia. This work is complemented by the use of large databases like the National Inpatient Sample (NIS) to uncover the epidemiology of preeclampsia.
Project Title: Pain and Analgesic Choices for Previable Vaginal Delivery
Faculty: Barbara Scavone, MD
Description: Little data exist regarding pain and analgesia for previable vaginal delivery. Ours is a unique prospective study gathering data on pain scores and analgesic choices for this procedure.
Project Title: Obstetric Management of Super-Obese Patients
Faculty: Barbara Scavone, MD
Description: We compare outcomes among super-obese (BMI >/= 50), obese, and non-obese cohorts. Ours will be the largest sample describing anesthetic management of super-obese patients in the literature. We are prospectively assessing traditional palpation versus ultrasound guidance for obstetric neuraxial anesthetic techniques.
Project Title: Microparticle Release and Obstetric Hemorrhage
Faculty: Barbara Scavone, MD
Description: This is a pilot study measuring the pattern of microparticle release over time during normal deliveries. We are using these data to plan for a study comparing microparticle patterns in patients who hemorrhage versus those who do not.
Project Title:  A pilot prospective cohort screening study of the prevalence of abnormal lead levels among parturients at a tertiary care center in south side Chicago.
Faculty: Chad Dean, MD
Description: This is a pilot study measuring the pattern of microparticle release over time during normal deliveries. We are using these data to plan for a study comparing microparticle patterns in patients who hemorrhage versus those who do not.
Project Title: PeDI Registry
Faculty: Alina Lazar, MD
Description: The objective of the study is to input data into the PeDI Registry, a multi-center repository that documents intubation methods, techniques, personnel, and intubation-related adverse events after difficult direct laryngoscopy in children during anesthesia management. With benchmarking data from participating sites, difficult airway management practices can be compared. The registry will continually analyze and plot trends in practice, such as evolution in the types of techniques and equipment employed.
Project Title: Comparison of Two Sedation Regimens for Awake Fiberoptic Intubation 
Faculty: David Glick, MD, MBA
Description: There are a number of methods for intubating patients with airways too difficult to manage using direct laryngoscopy. The most frequently used method is intubation with a fiberoptic bronchoscope. This method is well described, but significant work remains to optimize the technique, identify its pitfalls, and select the best drugs for patients undergoing "awake" fiberoptic intubations. 
Project Title: The Incidence of Perioperative Deep Venous Thromboses of the Lower Extremities 
Faculty: David Glick, MD, MBA
Description: The development of postoperative Deep Venous Thromboses (DVTs) is a great concern both clinically and administratively. Prevention of DVTs is one of the quality standards by which hospitals are ranked. This study will determine the incidence of DVTs immediately before surgery and examine the impact of various anesthetic techniques on the rate of intraoperative development of DVTs. 
Project Title: The Use of Digital Recording of Family Members to Improve Emergence from Anesthesia 
Faculty: David Glick, MD, MBA
Description: As patients awaken from general anesthetics they may experience periods of confusion and disorientation. Disorientation is especially difficult for patients who do not speak English or for whom English is a second language. Our project is an ongoing effort to identify phrases and instructions used by an anesthesiologist at emergence and to translate them into the patient's native tongue. The project has grown to encompass the post-anesthetic care of our patients and to identify and translate the necessary phrases in that venue as well. Recorded messages from parents also have been played back for pediatric patients (English-speaking and non-English-speaking) at emergence. 
Project Title: Use of the BIS Monitor To Decrease the Incidence of Intraoperative Awareness
Faculty: David Glick, MD, MBA
Description: This project evaluates the effects of various perioperative medications on the ability to form memories and the simultaneous effects these mediations have on the bispectral index, a processed EEG algorithm that determines depth of anesthesia.
Project Title: The Economic Impact of the Preoperative Clinic 
Faculty: David Glick, MD, MBA
Description: Over the past several years we have examined the causes of day-of-surgery case cancellations and delays. At first the impact of the anesthesia preoperative clinic on case cancellations and delays was studied. Subsequently, we evaluated the demographic characteristics that place a patient at higher risk for a day-of-surgery case cancellation. The long-term goal of the project is to create a model for predicting case cancellations and delays.
Project Title: Correlation of Hemoglobin Point-of-Care Testing and Serum Hemoglobin
Faculty: Allison Dalton, MD
Description: We seek to determine the correlation between the point-of-care measures of hemoglobin in the ORs and serum hemoglobin run in the lab at hemoglobin concentrations around the transfusion threshold. We will also consider how time from collection to running the sample changes the concentration of the hemoglobin measured by point-of-care devices.
Project Title: Argatroban Dose Requirements in Critically Ill Patients with Heart Failure
Faculty: Allison Dalton, MD
Description: The primary outcome is to study the dose of argatroban at the time of the first two consecutive therapeutic activated partial thromboplast in times (aPTTs) in patients with heart failure and reduced ejection fractions compared to those without heart failure. Secondary outcomes are the percentage of aPTTs that are therapeutic, time to therapeutic aPTT, incidence of bleeding on or within the first 24 hours of discontinuation of argatroban, and the incidence of mortality associated with bleeding/thromboembolism or with other causes.
Project Title: Observational Study Evaluating the Hemodynamic Relationship Between Volume Removal and Pulse Pressure Variation During Renal Replacement Therapy
Faculty: Aalok Kacha, MD
Description: Assessing the intravascular volume status of ICU patients is a continuous challenge in the management of their fluid balance. Despite the importance of this evaluation, there is no single objective measure to guide the clinician. Traditionally, fluid balance has been guided blood pressure, heart rate, pulmonary examinations, skin turgor, capillary refill, urine output, and chest radiograph. Dynamic indices of volume responsiveness are vastly superior to invasive pressure measurements (central venous pressure, pulmonary capillary wedge pressure) for the management of hypovolemic shock in mechanically ventilated patients. Pulse pressure variation (PPV) reflects the slope of the Starling curve at the patient's current intravascular volume. We hypothesized that PPV may also guide volume removal during continuous venovenous hemofiltration or intermittent hemodialysis. We are conducting an observational study of patients undergoing renal replacement therapy to evaluate the utility of PPV in predicting negative fluid balance.
Project Title: Comparison of Quality of Pain: Open Tip Single-Terminal Hole with Close Tip Multi-Hole Epidural Catheter in Postsurgical Adult Patients.
Faculty: Tariq Malik, MD
Description: This is a prospective, randomized trial to compare the efficiency of two different epidural catheters. Similar catheters have been tested at the lumbar level; this study is meant to evaluate their efficacy at the thoracic level. Over 600 subjects have been enrolled. (The primary end-point is a comparison between one-sided block vs bilateral block in each group.)
Project Title: Analgesia for Patients for Mediate Arcuate Ligament Syndrome Release
Faculty: Magdalena Anitescu, MD
Description: Mediate arcuate ligament syndrome (MALS) is a condition that produces postprandial abdominal pain of various intensities. In select cases, surgery is indicated to release fibrous bands that encase the celiac artery. Our center is one of the pioneers of this treatment. In close collaboration with vascular and pediatric surgery, we initiated a study to identify the best perioperative analgesic plan for patients with MALS undergoing surgery for release.
Project Title: Use of Imaging for Bone Marrow Biopsy and Patient Satisfaction
Faculty: Magdalena Anitescu, MD
Description: Bone marrow biopsy is one procedure to evalutate hematologic disorders. In most cases the biopsy is taken from the iliac crest. Landmarks are identified by palpation. The procedure is associated with pain because of multiple needle adjustments or multiple punctures. If the biopsied specimen is suboptimal, another biopsy must be taken. Together with the section of hematology-oncology, we initiated a study to evaluate the quality of a specimen and patient satisfaction when a bone marrow biopsy is performed using imaging techniques (ultrasound and fluoroscopy).
Project Title: Comparison of Pain Relief after Ultrasound-guided Non-stimulating Interscalene Catheter Placement vs. Stimulating Catheter Placement in Total Shoulder Arthroplasty; a Randomized Study.
Faculty: Tariq Malik, MD
Description: Total shoulder replacement is the third most common joint replacement surgery.  The recovery process is painful. This study is meant to evaluate the effectiveness of pain relief after total shoulder arthroplasty when a catheter is placed in one of two different ways.
Project Title: Thoracic Epidural Catheter Placement Using Chest Computed Tomography
Faculty: Tariq Malik, MD
Description: Thoracic epidural catheter placement is a technically challenging procedure because of the anatomy of the thoracic spine. We will use computed tomography to guide replacement. Over 200 subjects are being enrolled in this randomized prospective study.
Project Title: Comparison of Ultrasound-guided L5/S1 Epidural Catheter Placement with Standard Epidural Catheter placement: A Randomized Trial.
Faculty: Tariq Malik, MD
Description: We will place an epidural catheter at the Ls/S1 level to improve pain relief in the third stage of labor. Pain relief will be compared after catheter placement at a higher level. The study will also show the value of ultrasound a in labor epidural.